A visual strategy
to inspire trust
By having a coherent design strategy that looks complete and balanced across all platforms, you automatically enhance the trustworthiness factor in communications with your clients. Use your new professional identity design to your advantage in closing new assignment deals.
Browse through our list of services and choose your favourites. 
Pick and mix as much as you want!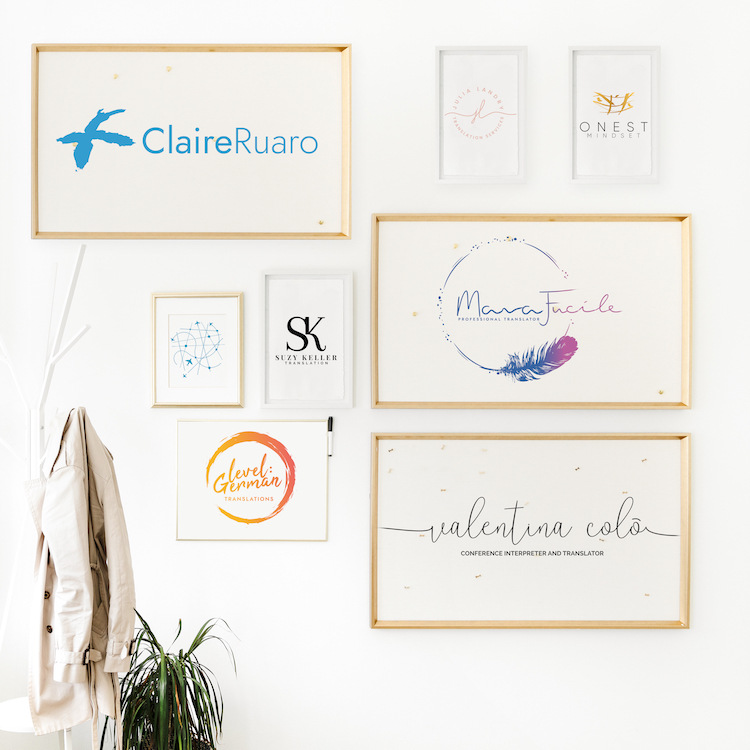 Our custom designed logo package is a first step towards a coherent visual image of your translation or interpreting business.
We will work closely with you throughout the whole process.  Based on your goals and requirements, our designer will crate at least 5 different & unique logo concepts with plenty of variations of each to choose from. The initial designs are beautifully presented, ensuring your logo is shown in different situations, so you can make an informed decision about your new brand.
By the end of your logo design journey, you will receive a full pack of your logo files (jpg, png, favicon, vector) and a mini brand book gift with guidelines for future use.
Are you in? 
Let's book a call to explore your new logo ideas!
Investment: from £450 – £650
Timeline: approx. 2,5 – 3 weeks
Your latest interpreting assignment. Upcoming translation conference. Industry events.
A proven strategy for face-to-face networking and a key for your potential clients to access your website or connect on social media for them to be able to drop you that first email.
Get a selection of personalised designs that align with your brand and make it memorable. Choose back and front design and we will adjust the final ready to print PDF files to the printer specs of your choice. This service does not include printing.
Are you in? 
Drop us an email to request a business card questionnaire!
Investment: from £175
Timeline: approx. 1,5 – 2 weeks
Go on, give your old CV a little sparkle.
Perfect for those who specialise in marketing translations, business or finance – short, easy to read, to the point and most importantly – well-designed and memorable.
You will receive your final CV in an editable Word file, as well as an email-optimised and ready to print PDFs, so you can send it by traditional post or quickly attach to your next assignment pitch.
Need some copy too? We can rewrite your whole CV to appeal to your target audience. 
Ready for a revamp?
Ask us for a personalised quote!
Investment: from £200 (1 page), £250 (2 pages)
Timeline: approx. 1,5 – 3 weeks
Explore the power of traditional offline marketing, also adapted for online use!
Let your clients know about the full scope of your services when sending them a thank you card after your last project together. Bring them with you to the industry event. Upload the PDF while replying to a request for proposal.
Not sure what to write? Our expert writers will guide you through the process.
try something new
Drop us an email to discuss the options and choose the one that's best for you and your audience.
Investment: from £150 (1 page), £200 (2 pages)
Timeline: approx. 1,5 – 3 weeks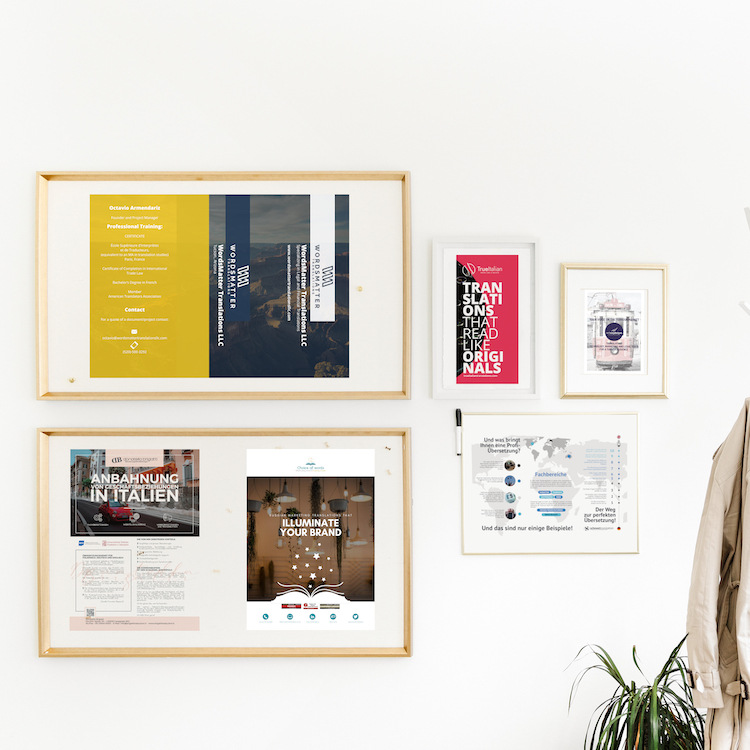 Nowadays, we conduct most of our business online. 
LinkedIn, Twitter, Facebook are your additional credibility indicators – project a coherent and trustworthy image with matching branding elements for your social interactions.
If you're posting on social media or blogging a lot, we can also prepare ad-hoc social media graphics, templates, headers for your blog posts and more.
Need some copy too? Let's boost your LinkedIn profile or work on your next blog post.
let's go social
Book a call to discuss your strategy and design!
Investment: from £99
Timeline: approx. 0,5 – 2 weeks
A thank you card goes a long way. 
Add extra value to your clients and let them know you appreciate their collaboration. Make it personal with custom holiday cards, for any holiday you can imagine!
Receive online & ready-to-print versions of your design. 
Investment: £125
Timeline: 1 – 2 weeks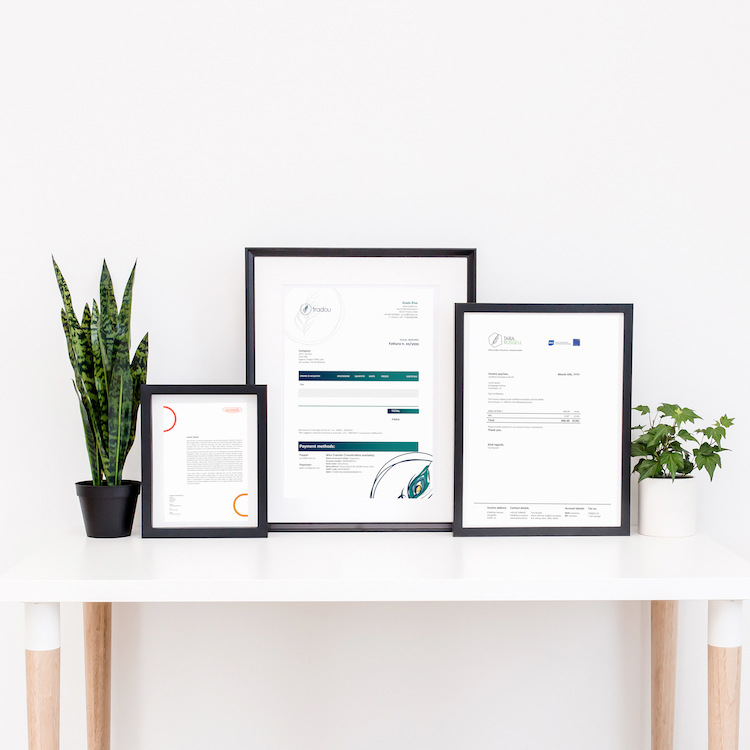 Show your attention to detail and reap the rewards. 
How many times were you frustrated when clients haven't provided you with full project info? Make it easy for your clients to get all the information they need for payment, taxes, terms, and show you're a professional.
We can help to design editable and printable letterheads and invoices for all your company communications. Impress and reassure every step of the way.
Investment: £125
Timeline: 1 – 2 weeks
With best regards.
Email signature is a great place for letting your clients know how to contact you, but also your latest offers, freebies or working hours. Make it count!
Your signature will be HTML-coded and delivered in a format you can use with your email client. 
Investment: £125
Timeline: 1 – 2 weeks
GET NOTICED, RECOGNISED & REMEMBERED
let's get to know your business better
Share your ideas with us and don't be afraid to ask for advice!
We're here to guide you every step of the way. 
You will need to confirm your subscription and preferences and accept our Privacy Policy so look out for the first email!
We will never send you spam. Unsubscribe anytime.